Produce
View our beyond organic range here
Kleinskuur Family system
Finally! The solution for growing a wide variety of good, healthy food naturally without chemical pesticides in your back yard is here! With a practical and affordable Kleinskuur Family System it is attainable.
We have perfected the mini-version of the Kleinskuur design to fit into an area of 6 m x 4 m. The system will provide more than enough produce for a family of 4 to 6.
All the elements of a proven Kleinskuur Commercial system are present, making it easy to run, with proper filtration and solids removal – usually the downfall of home systems.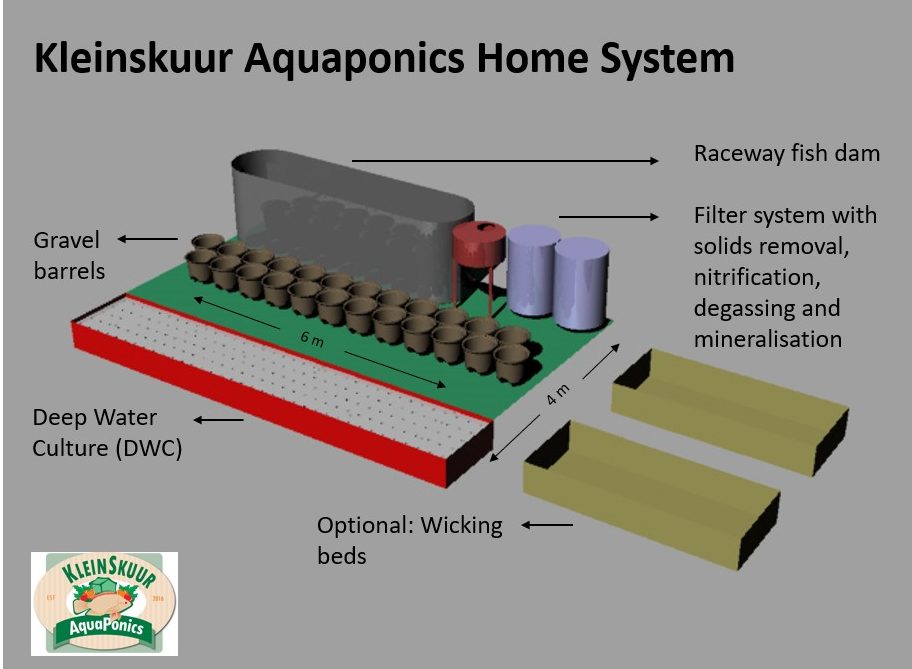 The Kleinskuur Family System consists of:
A fish dam for enough tilapia fish to provide protein for the whole family and nutrients for the plants.
A gravel section with 24 Kleinskuur Auto-syphon Gravel Barrels where you can plant all fruiting crops, e.g. tomatoes, cucumbers, peppers, brinjals, baby marrows, patty pans, cauliflower, strawberries, and herbs, such as rosemary.
A Deep Water Culture section with floating boards with 180 holes for leafy vegetables, e.g. lettuce, spinach, kale, mustard leaf, and many types of herbs, such as parsley, basil, rocket, coriander, and mint.
An efficient filter system for the removal and mineralisation of solids and a proper good-bacteria nitrification system to convert the ammonia coming from the fish into the nutrients the plants need.
A low energy-use water pump, that can also be run off solar power.
An air pump and air lines with air stones.
All the pipes and fittings needed to put everything together.
Instructions to build and run the system.
A starter pack to get going.
Optional:
A net house allowing the correct spectrum of light for plant growth, and support for vine plants.
Fish cages to separate the different age groups.
A wicking bed for onions, potatoes, beetroot, carrots, ginger or any other root crop.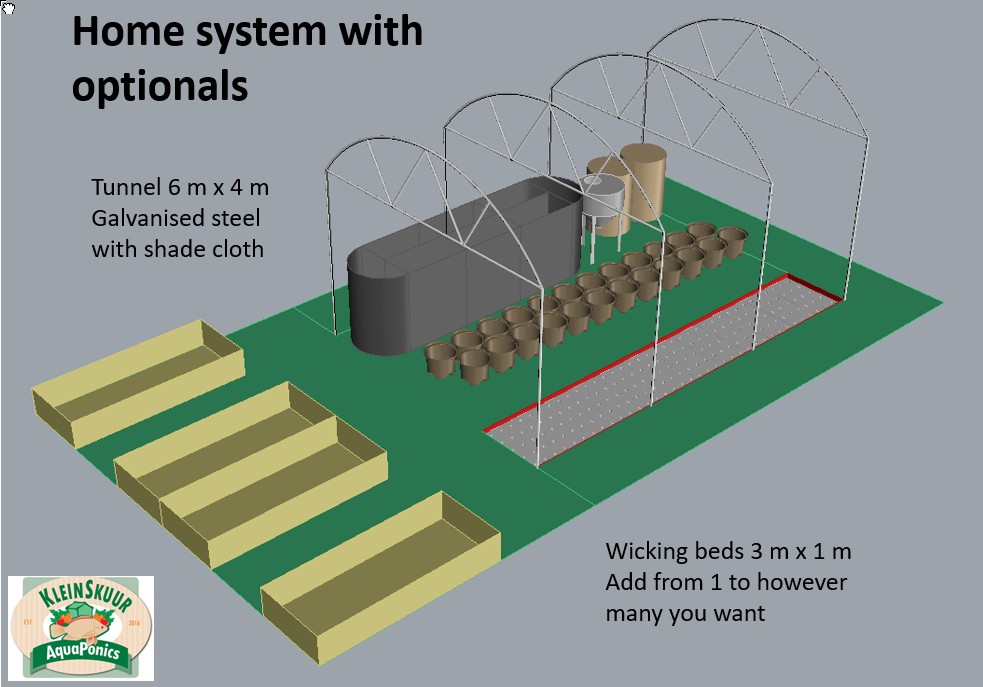 We can also provide:
Training and technical support
Seed or seedlings for the system
Grow medium
Seedling trays
Fingerlings
Fish food
Heaters for the fish dam
Additional nutrients
Net pots and special Kleinskuur "pacman" foam cubes
Packaging material
Special pruning and harvesting scissors
Measuring tools (pH, EC, temperature and DO)
All the spare parts of the system in case of disaster
All Prices are VAT Excluded.
---
Kleinskuur Community System
Fresh food daily for 120 people – that is the purpose of the Kleinskuur Community system. It is ideal for a school, hostel, village or any community upliftment or educational project. It was designed to fit into a standard 10 m x 30 m greenhouse tunnel.
The system can easily be run by two people, and although it was not designed for large scale commercial production, it can provide a healthy income for a family.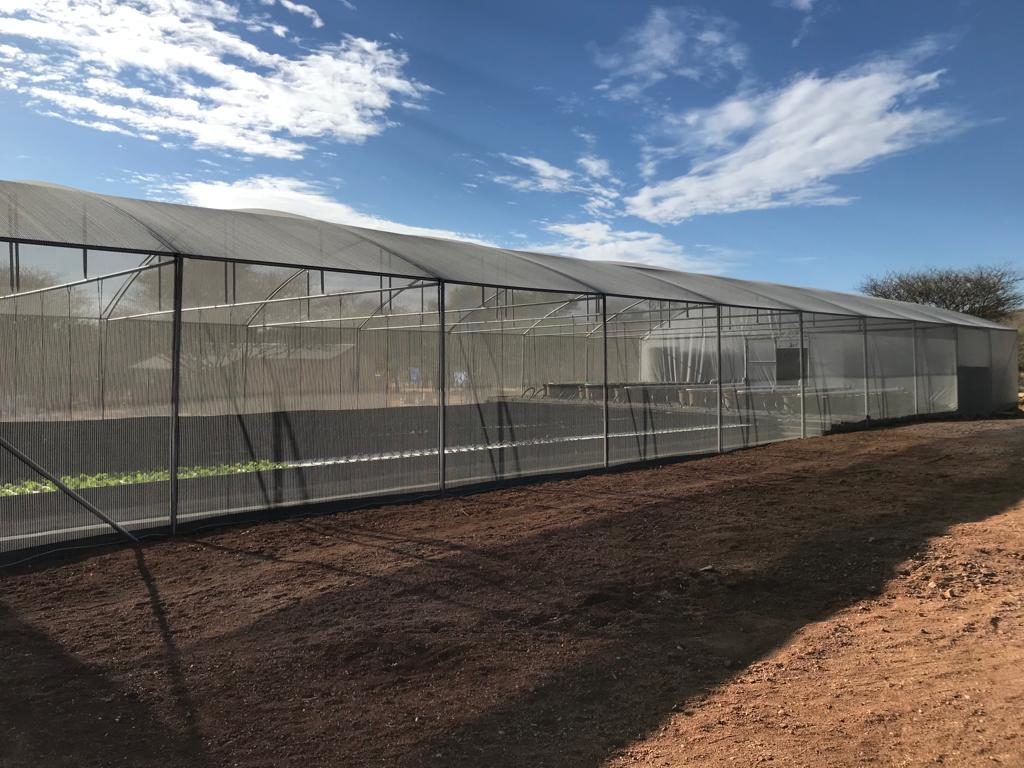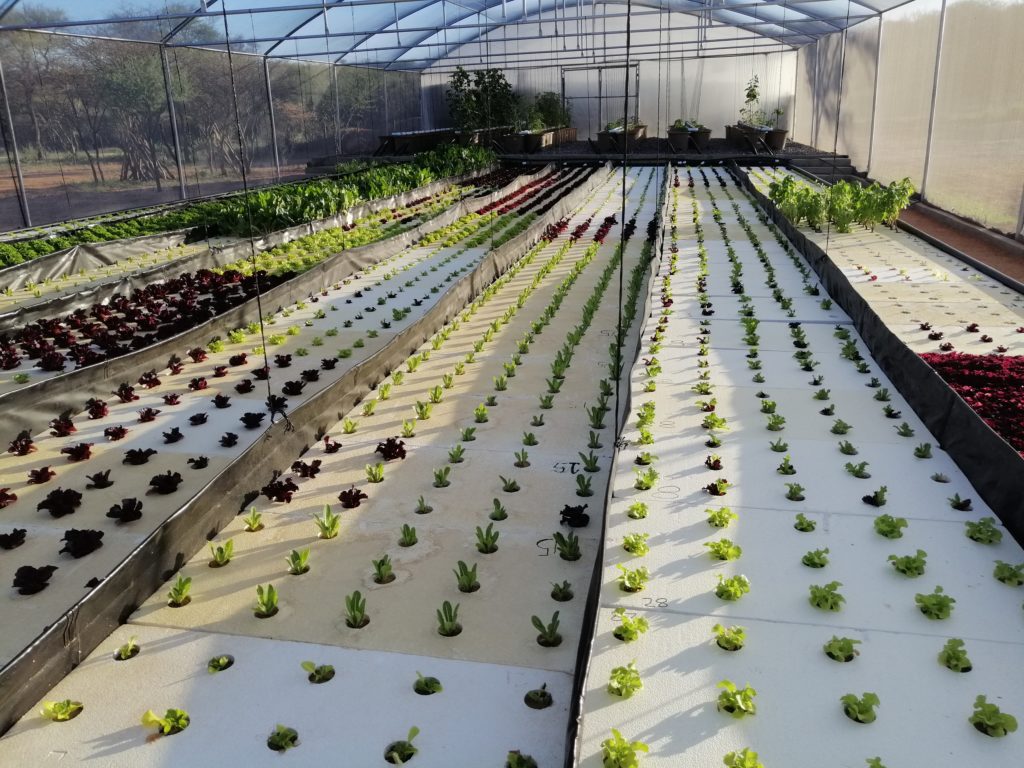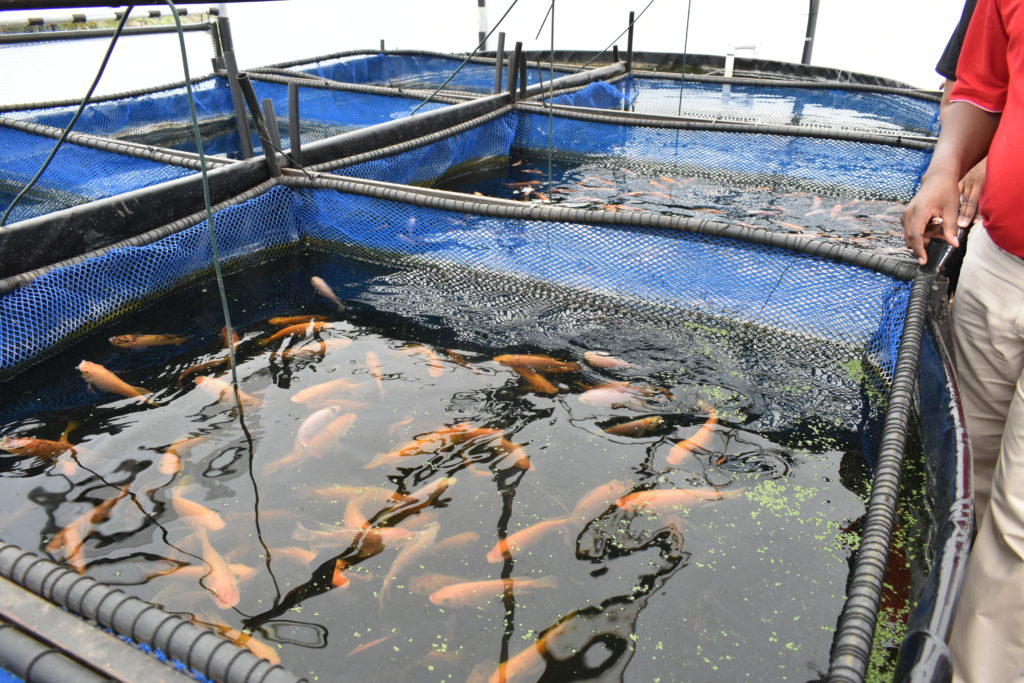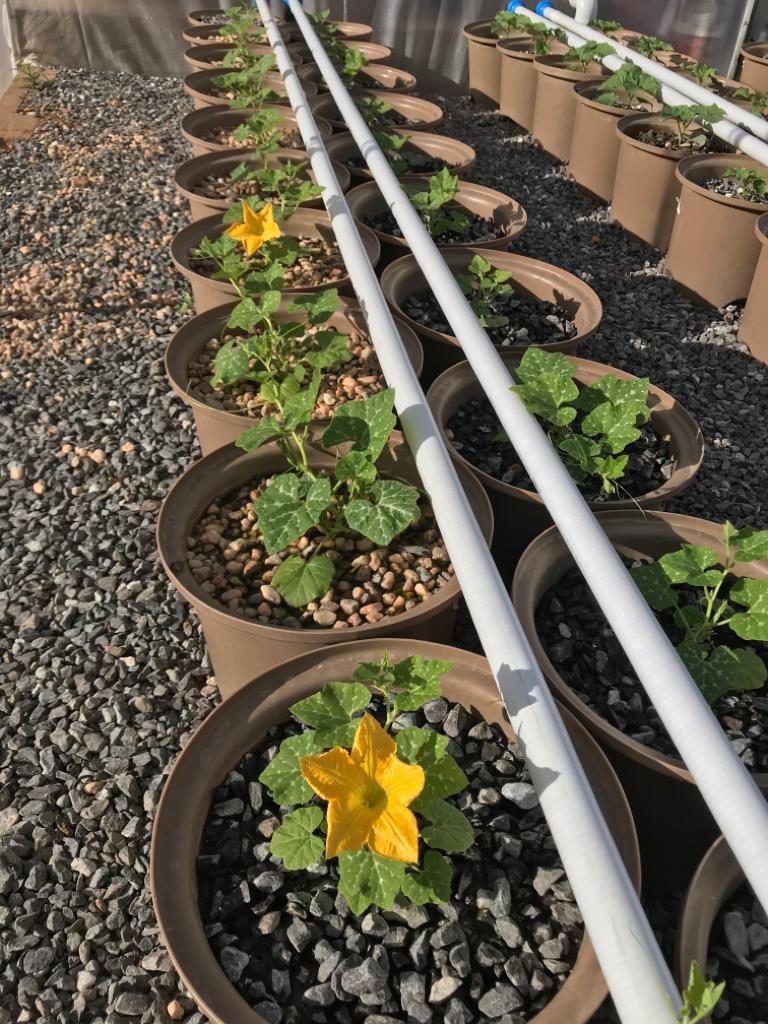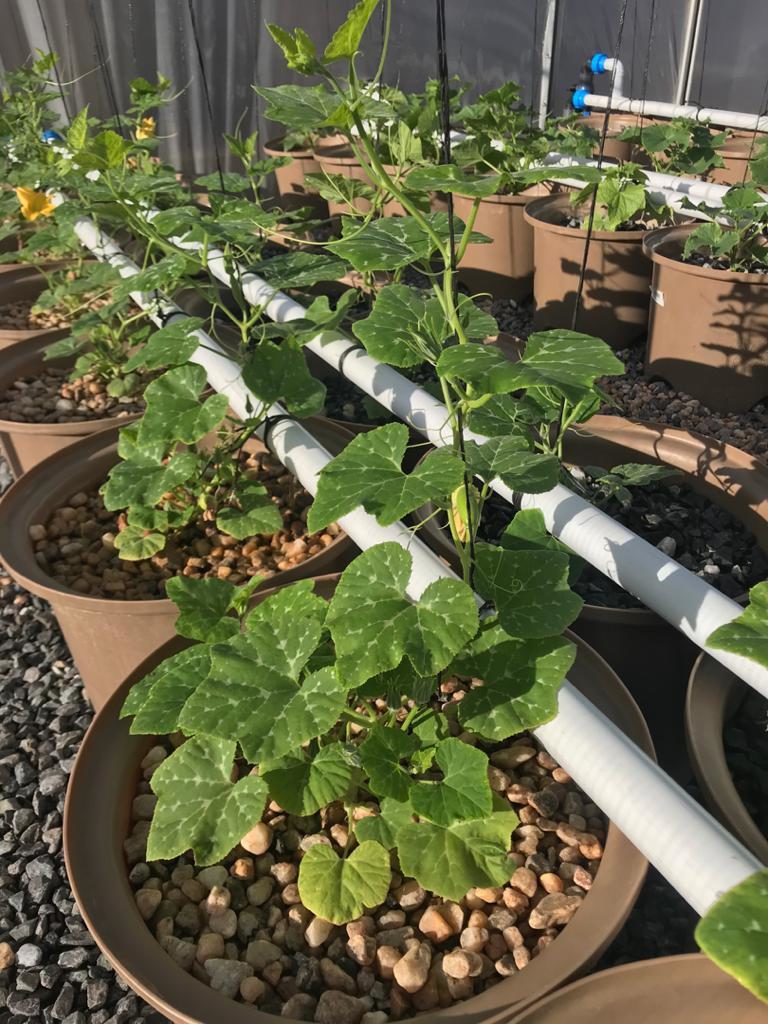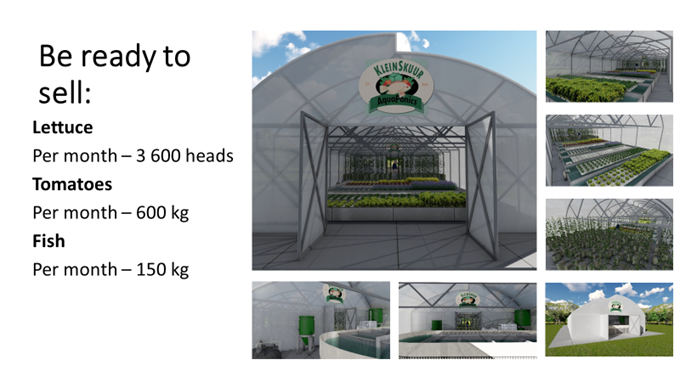 | | |
| --- | --- |
| Revenue per year | R241,619.22 |
| OPEX per year | R174,319.46 |
| CAPEX to build | R504,745.93 |
VAT Excluded
---
Kleinskuur Commercial System
The Kleinskuur Commercial system is the first truly economically viable aquaponic system in the world delivering production on such a scale that revenue can surpass the capital investment in one year.
The most important message to any prospective commercial farmer is: We provide a tested, efficient, productive system – you need to sell the produce!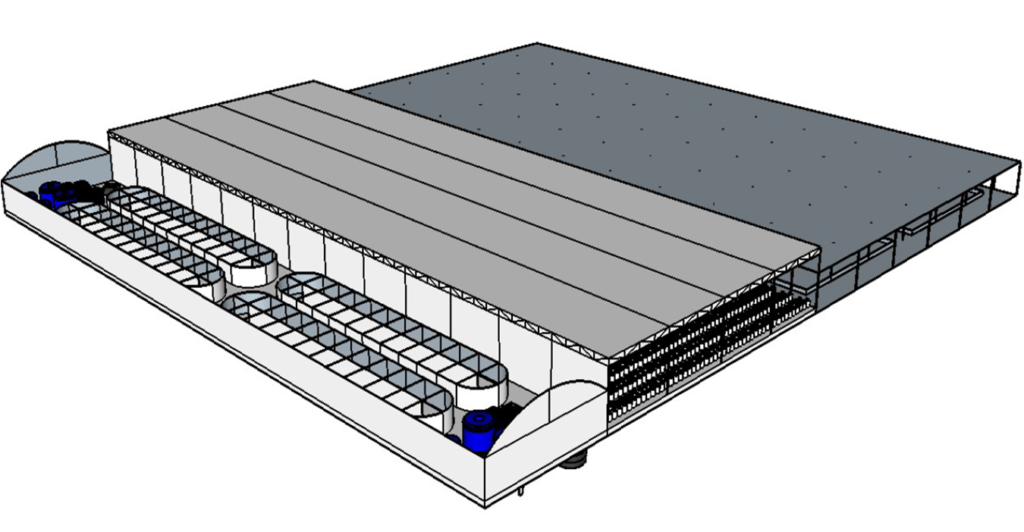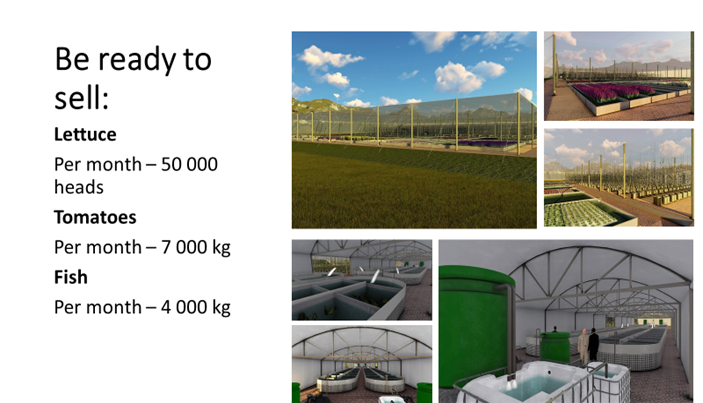 | | |
| --- | --- |
| Revenue per year | R7,112,300.60 |
| OPEX per year | R3,308,789.20 |
| CAPEX to build | R4,995,471.10 |
VAT Excluded
---
Kleinskuur Light Commercial System
The Kleinskuur Light Commercial system is exactly half the size of a commercial system and can be built as Phase 1 of a commercial system.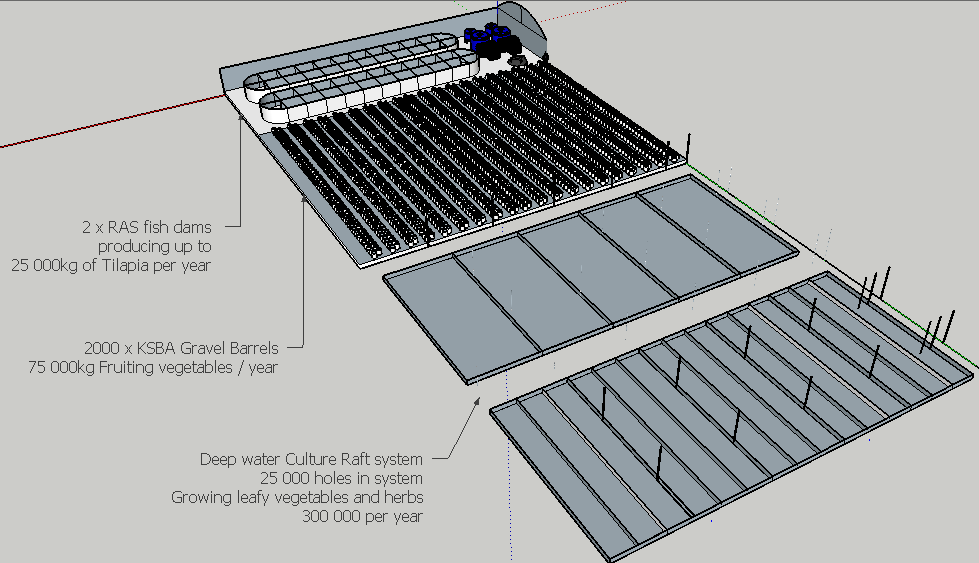 | | |
| --- | --- |
| Revenue per year | R3,443,317.17 |
| OPEX per year | R1,654,789.20 |
| CAPEX to build | R2,738,887.92 |
VAT Excluded