---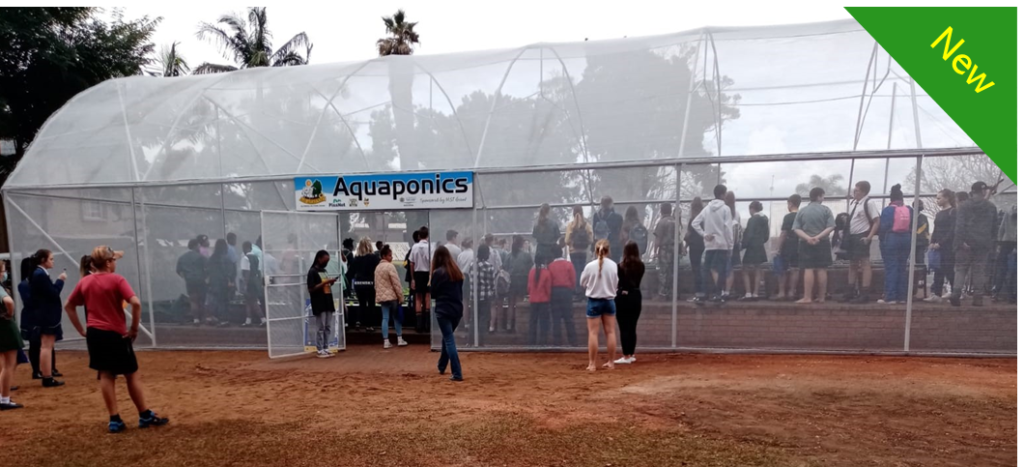 Systems:
KSBA Gravel Barrel Auto Syphon production system
KSBA72 Lodge & Training System
---
---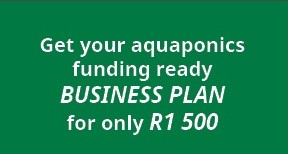 Affordable business plan:
---
Kleinskuur offers guided walkthrough tours of our R&D system.
Here you can get a real feel for what aquaponics is all about.
We will show you how we imitate a natural ecosystem through the use of fish and plants in a harmonious connection with the flow of nutrient-rich water.
For only R50 pp, this is a lovely excursion that will bring you closer to nature and teach you what you didn't know about the wonderful world of aquaponics.
To book an appointment either email or phone us.
By Appointment Only
We love welcoming visitors to Kleinskuur Aquaponics, but this is a kind request to limit all visits to obtain information on Aquaponics and the Kleinskuur systems to Mondays and to first make an appointment by sending an email to sales@ksba.co.za.
Farm sales of veggies will continue as always, any day before 17:00. Short tours can also arranged for Fridays at a nominal fee of R50 per person. Just contact us on the same email address. Sales@ksba.co.za.
Thank you for understanding that we also have other obligations.
Who are we?
Kleinskuur Aquaponics
There are a growing number of economically successful systems in the world, but commercial aquaponics is in its infancy in Africa.
After attending courses by internationally renowned experts, Murray Hallam and Dr Jim Rakocy, and studying the principles of aquaponics extensively, Colin Bremner of Kleinskuur Aquaponics near Pretoria, has designed a unique cost effective, economically viable system, following the motto of "keep it simple".
Having proven the design and production with a Research and Development model near Pretoria and in a number of working community systems in SA and Namibia, Kleinskuur Aquaponics is ready to assist you to enter the world of sustainable agriculture.
Why the Kleinskuur system?
It is a proven, affordable, working system.
Kleinskuur has a grow area ratio of 84% effective use of the tunnel. Only 16% is walkways. It is the highest in the industry. Growing more with less wasted space.
The ergonomic and efficient design of the Kleinskuur system makes for more efficient labour use than any other system of comparable size.
Incorporating the tunnel structure with the DWC grow-beds is a first in the industry – cutting costs further.
Designing the Kleinskuur Aquaponic system to work with and not against nature makes many of the costly add-ons unnecessary – saving on expensive additional equipment needed to make a system work, such as grow lights or ladders for harvesting.
It can be established anywhere in Africa and most parts of the world.
What is aquaponics?
In aquaponics the best of both worlds meet. There is an aquaculture system with fish such as Tilapia. The waste produced by the fish in the water is converted through a bacteriological system into the nutrients plants need.
The plants act as filter for the water going back to the fish. The water gets circulated through the system the whole time. The plants are cultivated in two different ways:
There is a deep water culture system (DWC) where plants such as lettuce, Swiss chard, spinach, kale and most types of herbs (e.g. sage, rocket, basil, parsley) are grown.
In the gravel bed system vegetables such as tomato, cucumber, peppers, chillies, brinjal, baby marrow, patty pans and herbs such as mint and rosemary can be grown.
It is a natural ecosystem in which no pesticides, chemicals or growth hormones can be used, because it will either harm the fish or the plants.
It is the healthiest nutrient rich food that can be produced in a controlled Eco environment.
It uses 90% less water than any other agricultural system.
healthy | natural | nutrient rich
Meet our commercial system as envisioned in this fly-through.
We are at the Hazel Food Market every Saturday.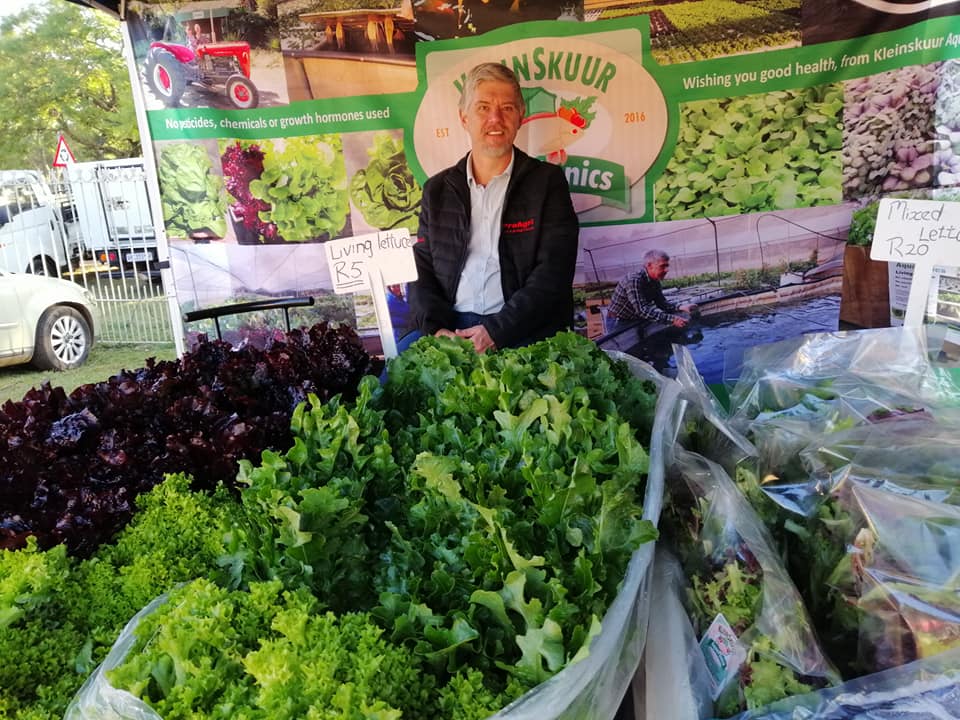 378 Queen's Cres, Lynnwood, Pretoria, 0081, Gauteng, South Africa
Kleinskuur Boerdery Co-wrote these books to help people succeed in Aquaponics.
Aquaponics addresses some of the major stumbling blocks which are present in other agricultural growing methods. The challenge aquaponic farmers face is an economic one: How do we make this work? How do we make this financially sustainable?
An international survey reviewed by Johns Hopkins University School of Public Health Institutional Review Board on the profitability of commercial aquaponic farmers has results which make for interesting reading. They found only 31% of the 275 respondents were profitable in the previous 12 months. The 31% is however not indicative of the success rate of aquaponic businesses as it excludes countless failed businesses. The good news is some have made it, and they left clues as to how they made it. The principles in this book incorporate those clues to increase your chances of success.
In this book, you'll discover:
– Some humour
– Business principles to build a thriving aquaponic business
– Practical lessons learned from aquaponic farmers
– Hacks to common aquaponic problems
– A new perspective on your value proposition
– And much more!
Get ready to position your business for success
Aquanomics – first edition (ebook only) Click here to purchase your own copy.
Aquanomics – second edition Click here to purchase your own copy.
---